If you're someone who loves crafting, you know how important it is to have a designated space where you can unleash your creativity. A craft room provides you with a dedicated workspace and keeps your supplies organized and easily accessible. However, it's not uncommon for craft rooms to become cluttered and chaotic over time. From piles of fabric to an abundance of paintbrushes, it can be overwhelming to figure out where to begin when it comes to organizing. In this blog post, I'll share some practical tips and tricks to help you create a functional and stylish craft room that inspires you to create your next masterpiece.
Quick and Easy Craft Room Organization Ideas
Follow these effortless storage ideas to know how to organize the craft room and get your crafting game to the next level: 
Label everything 
I can not stress enough how vital labelling is for any storage and organization system. To maintain the organization of your craft room, you must label each storage container and organizer, whether small or big. In this way, you will be able to know what is where in an instant.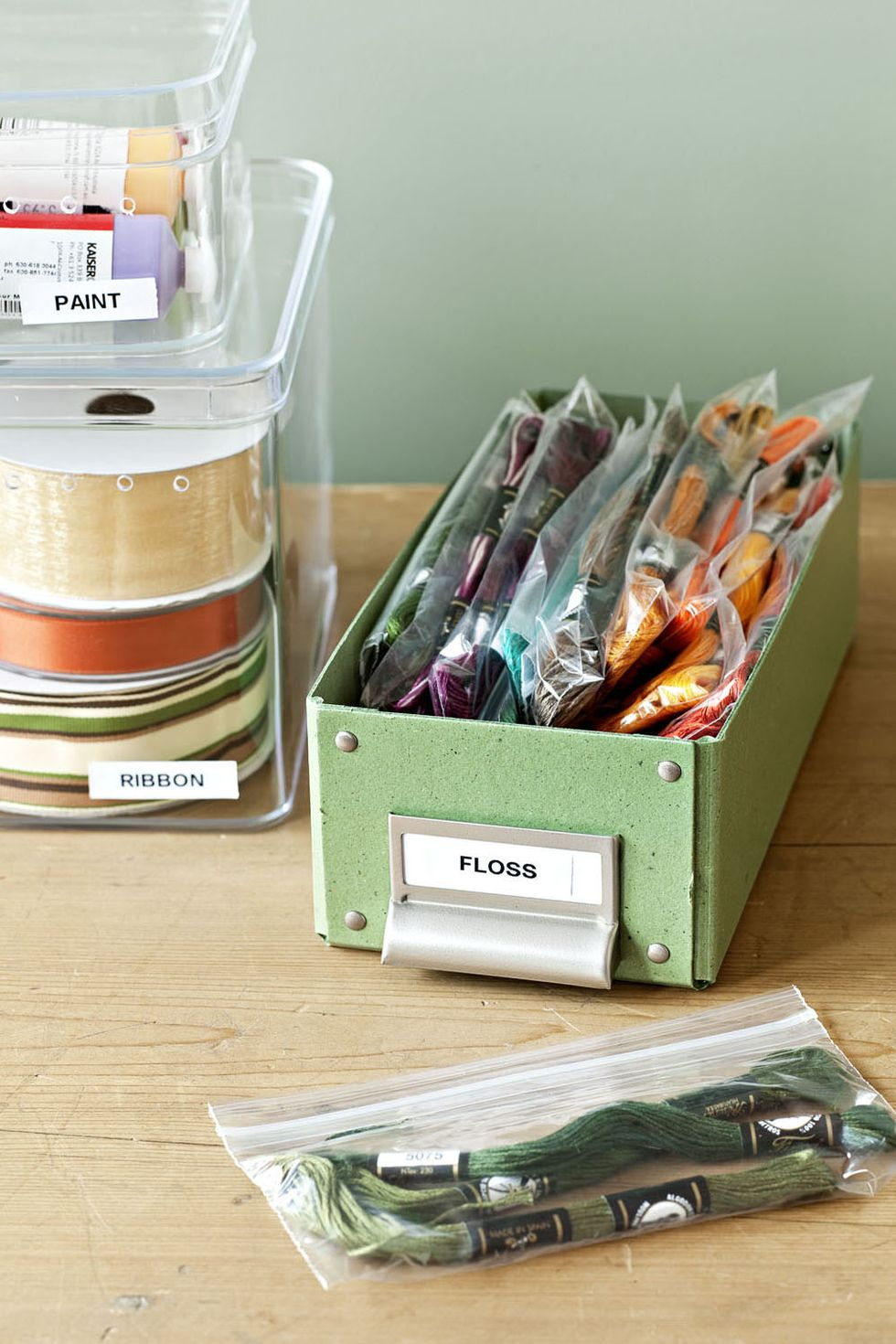 Create a practical workstation or craft table
Create a workstation in your craft room, no matter what kind of art and crafts you love. Ideally, a workstation should be in the centre of the room, where all items you need are accessible. 
Designate separate containers for the craft supplies
Designate separate containers for your crafts essentials and separate them by category, such as keeping your paper clips in one container and glue sticks in another. This technique will prevent things from getting lost in the pile of crafting supplies. If you don't use storage bins, you can keep the stuff in the drawers and use drawer dividers to keep them organized. Moreover, use clear jars to store your supplies, as they are more practical and convenient when searching for a specific craft item. Suppose you don't want to invest in fancy storage baskets and containers. In that case, you can repurpose old boxes to make organization on a budget possible. As Michelle from Practical Perfection suggested, that organization does not have to be expensive. Moreover, make it a habit to keep things back in their designated places so that you don't create a mess after every few days of working. 
Utilize the door space to maximize craft room storage
The back of the craft room door is an ideal vertical space that you can use smartly to store and organize your craft items. There are plenty of over-the-door racks available in the market; you need to get the one that fits your door size.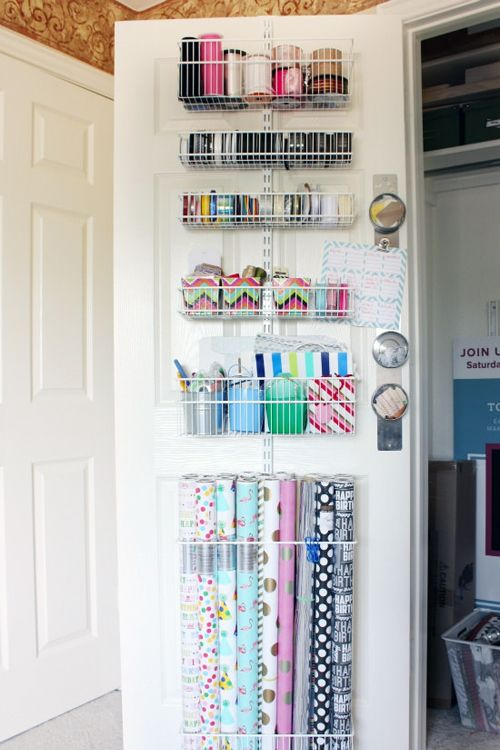 Rolling storage cart to store craft essentials
 Suppose your workstation is away from where you store your craft supplies, or you want to do some artsy activity while binge-watching Netflix. In that case, this creative idea is definitely for you. All you have to do is to store the required items in a rolling cart. Move the cart along to your working point. It's a great way to quickly hide away the craft supplies if an unannounced guest arrives.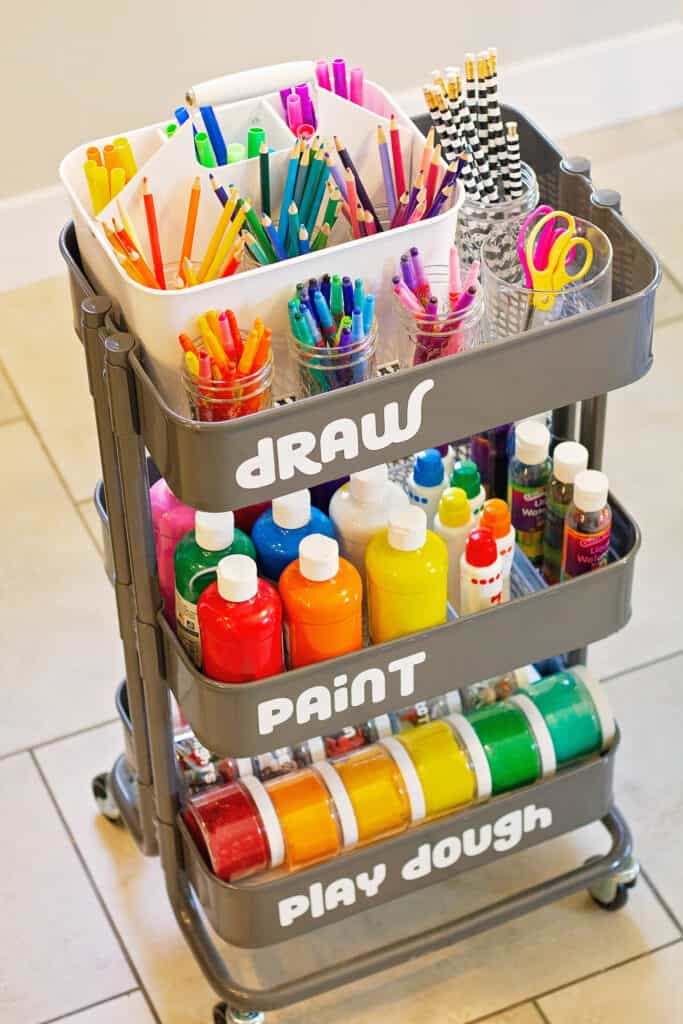 Utilize vertical storage of your craft room
Smartly utilizing vertical space in any area is a great way to maximize storage space. You can hang wall-mounted racks or floating shelves on your crafts room walls to use the room's vertical space. 
Install rods to hang the craft supplies
As I discussed above, the importance of utilizing vertical space, another creative way to do that is to install rods on the crafts room walls. Add hooks to the rod to hang the storage boxes or baskets. Using a rod with hooks is an ideal way to display small craft supplies like scissors. Alternatively, if the rods are removable, you can hang washi tapes, scrapbook paper rolls and other supplies.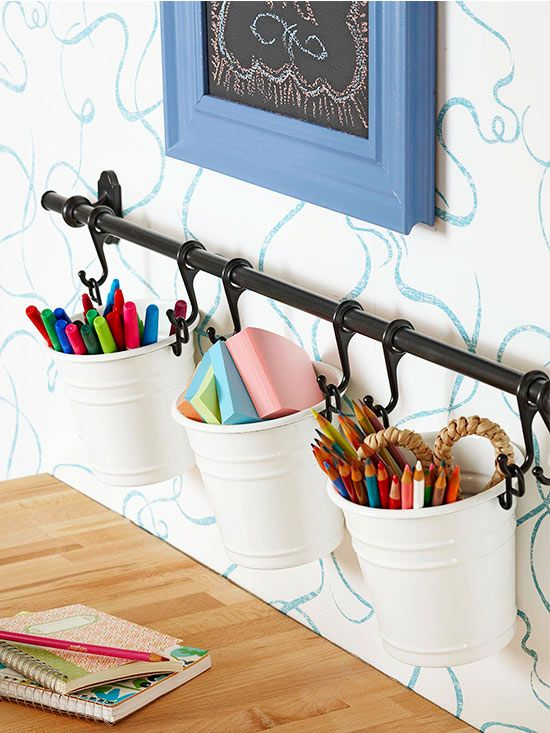 Get a Pegboard in your craft room
Pegboard is a great idea to store and organize your craft essentials in less space. From washi tapes to photo frames and stationery items such as pens, pencils, and paint brushes, you can hang whatever you want on the pegboard. You can also use a pegboard to hang decorative items, such as fairy lights, to make your craft room look pretty.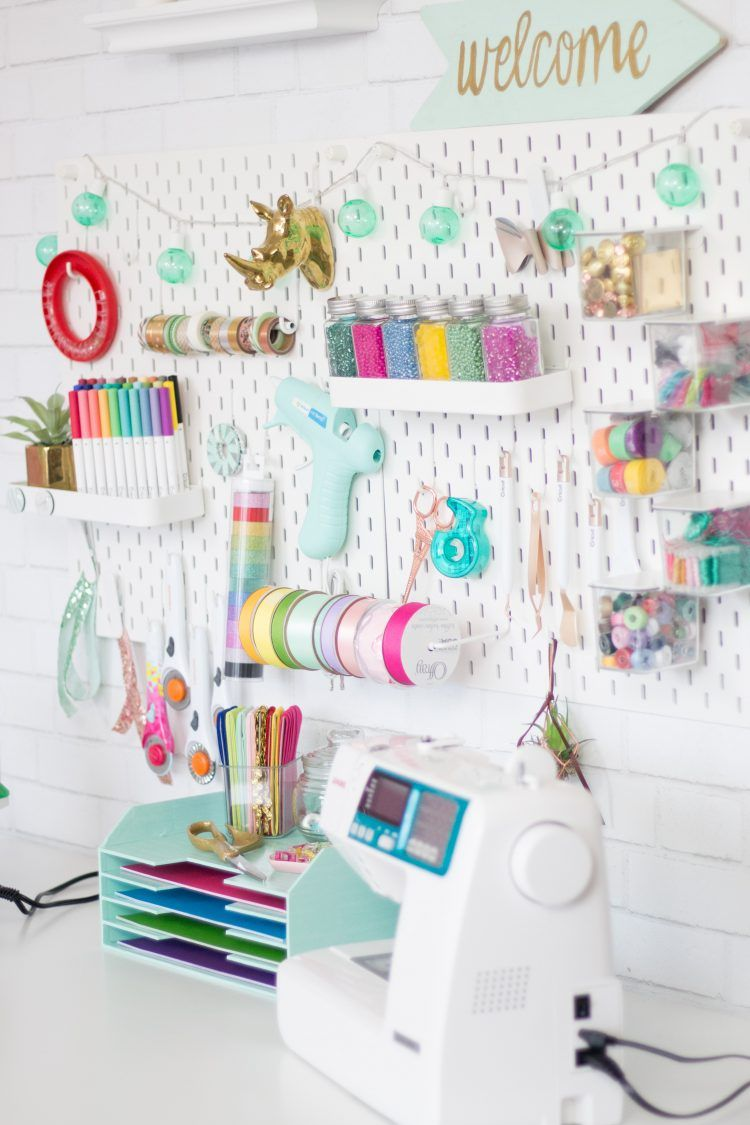 Display your supplies on shelving units
If you are into sewing, put your fabrics on display and colour-coordinate them for a more aesthetically pleasing look. If you have a huge collection of wrapping paper, you can display that too. For this purpose, you can get some excellent shelving units to be mounted on the wall. 
Create DIY storage organizers
If you don't want expensive storage organizers, you can create your DIY ones, too. Look around the house; you must find some old boxes and containers you usually would have thrown out. Do a little makeover, label them, and your crafts organizer is ready. 
Organize craft supplies in a craft caddy 
Put all your smaller craft items in a caddy, and you are good to go. Grab the caddy and start being creative. This is a great way to organize and store art supplies in small spaces. 
I hope you like the article and will use these tips to organize your craft room. If you want to read more on organization tips and hacks, head over to our blog. I will be waiting for your feedback.
FAQS
Q: Why should I organize my craft room?
A: Organizing your craft room can help you save time, increase productivity, and improve your overall crafting experience. It can also help you find and access the supplies you need quickly and prevent clutter from building up. 
Q: How should I start organizing my craft room?
A: Start by taking inventory of your supplies and determining how you want to categorize them. Then, declutter any items that you no longer need or use. After that, designate specific storage areas for each category and label them accordingly.
Q: What are some essential storage solutions for a craft room?
A: Some essential storage solutions for a craft room include shelving units, clear storage containers, drawer organizers, pegboards, and hanging organizers.
Q: How can I maximize space in my craft room?
A: You can maximize space in your craft room by utilizing vertical space with shelving units or pegboards, using underutilized areas like the back of doors or inside closets, and investing in multi-functional furniture like a table with built-in storage.
Q: How can I maintain my organized craft room, or how can I keep my craft room organized?
A: You can maintain your organized craft room by regularly decluttering, putting items back in their designated storage areas after each use, and periodically reassessing your storage solutions to ensure they still work for you.
Q: What should I do with craft supplies I no longer need?
A: Consider donating or selling craft supplies that you no longer need. You can also repurpose them for other projects or find ways to recycle or upcycle them.
Q: How often should I reorganize my craft room?
A: The frequency of reorganizing your craft room will depend on how often you use it and how quickly clutter builds up. However, it is generally a good idea to reassess your organization system every few months to make any necessary adjustments.