Having a newborn baby is all fun and laughs until you have to go out with the little human with tons of baby essentials. Taking your baby out induces even more anxiety when you have a messy and disorganized diaper bag. Packing a diaper bag is an art in itself as you have to keep everything your baby might need, but you also don't want to shove everything in the bag that becomes heavy enough for you to carry. So, if you are looking for quick hacks to flawlessly organize your baby's diaper bag, keep reading!
Benefits of having an organized diaper bag
A well-maintained and organized diaper bag is helpful for those parents who are always on the go with their little ones. It not only makes it easy to identify and access products when you need them, but it also helps to ensure that all of your baby's necessities are in one place. Some of the benefits of an organized diaper bag are discussed below: 
Saves Time: You can find what you need quickly and easily with an organized diaper bag, saving you much time. A well-organized bag can make all the difference whether you need to grab a bottle or change a diaper quickly.
Relieves Stress: Imagine your baby is screaming her lungs out, and you must search for the pacifier in the mountain of little things in the diaper bag. Finding what you need in a chaotic diaper bag adds stress to parenthood, which is already tricky enough. You may reduce some of the stress of being a parent by keeping your bag orderly.
Saves Space: If you have an appropriately organized diaper bag, it will save you space. Stuffing everything all together in the bag will create chaos, and baby essentials will take up double the space. 
Helps You Remain Prepared: Infants require a lot of essentials, and if you need to be more organized, it's easy to overlook anything crucial. Keep your diaper bag tidy by keeping everything you need, from diapers and wipes to extra clothing and snacks.
No more Over-packing:  When you have a well-organized diaper bag, you know everything you have and need. Over-packing, which can make your backpack heavy and challenging to carry, can be avoided this way.
Makes your Day-outs Smoother: Having an organized diaper bag may make outings with your kid much simpler, whether heading to the park or running errands. You won't have to dig around for what you need because everything will be within easy reach.
Quick Tips on How to Organize Diaper Bag

If you are wondering how to organize a diaper bag like a pro, follow these diaper bag organization tips:
Select the diaper bag that works for you
Before going into the details of organizing a diaper bag, you should know the importance of the right diaper bag. Only some things are suitable for some. You need to see which kind of bag suits you the best, whether you are comfortable with a backpack, a conventional diaper bag, or you want to convert your tote into a diaper bag. Selecting the ideal diaper bag will help you stay organized in a big way. The easiest diaper bags to pack and keep organized are those with numerous internal and exterior pockets and an attached changing pad. Also, a heavy-duty bag resistant to wear and tear is an excellent option to splurge on, as you might be using it for years to come, especially if you plan to have more babies. You can also get a bag with an attached changing pad that will help you if you frequently need to change the diaper on the go. 
What to pack in a diaper bag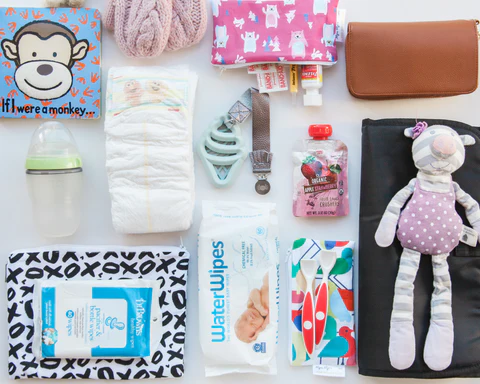 There is no ultimate diaper bag checklist that applies to every parent. Depending on the time of year, your tastes, and your child's age, you'll decide what to pack in your diaper bag. However, every mother strolling out with her baby generally needs the following items. 
Diapers: The quantity of diapers mainly depends on how many hours you spend outside. For newborns, it is ideal to keep one diaper for each hour plus a couple of extra. 

Diaper changing essentials: This will cover everything you need for changing a baby's diaper. Such as diaper changing sheets, baby wipes, anti-rash cream, and a waste bag for soiled diapers. 

Feeding Supplies: This includes feeding bottles and formula containers.

Pacifier 

Burp cloth

Bibs

Sippy cups, food containers and snacks in case of toddlers.

Extra baby clothing

Seasonal necessities include mosquito repellent in summer and socks, caps or mittens for winter.

Toys or books

Swaddle blanket

Hand sanitizer 

Sunscreen

Mommy's essentials, such as wallet, phone, keys, etc. 
Keep it minimal 
The diaper bag checklist contains various items, but I recommend you keep it minimal and put only those essentials you will need. For instance, if you go for a few hours, only one pair of clothing will suffice. 
Use bag inserts to avoid the mess
Bag inserts are a life-saver for organizing diaper bags. You can also use makeup pouches of your choice for this purpose. These inserts will help keep things organized and act as excellent bag organizers.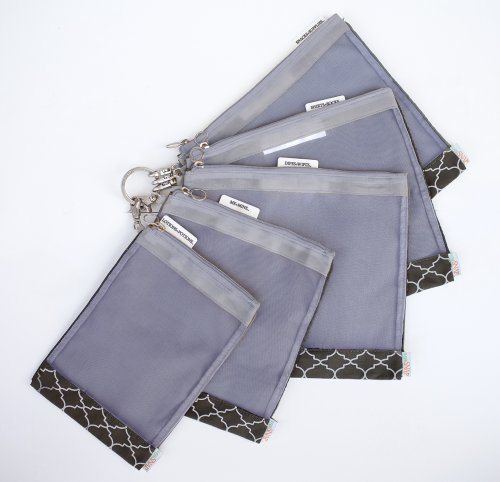 Use travel-size bottles instead of full-size ones
Purchase a few travel-size bottles for lotion, sunscreen, sanitizer, etc. and keep them in your diaper bag permanently. Using travel-size bottles instead of full-size ones will help you save a lot of space. 
Designate each pocket of your diaper bag

Get a bag that has maximum pockets or compartments and make maximum use of these pockets. The bag pockets are handy for smaller items such as pacifiers, burp clothes, and bibs. Moreover, always designate each item to its specific pocket and stick to it. This way, you will know that your baby's pacifier is always in the specified pocket, the rash cream is in the other pocket and so on. You'll save much time and frustration if you maintain your pocket system.
Reusable containers or bags for snacks
Use reusable bags or containers for snacks, especially when you plan to stay out for longer hours. Cheese sticks, fruits and cupcakes are the easiest options for your toddler's snacks.
Don't forget the mom's essentials
Motherhood changes you in a million ways, including changing your fashion game. Hanging out with your baby while carrying all the essentials he might need during the outing might be frustrating for new parents. To ease the stress, I recommend you keep your stuff such as your phone, wallet, keys etc in the diaper bag because it is better to carry one bag instead of two. Simply get a sleek purse that can hold all your essentials and easily fit in the diaper bag, and you are good to go.
Be prepared for accidents
If you are heading out with the little one, you must also be prepared for accidents. Well, I am talking about messy diaper accidents and other such disasters. So, make sure to keep extra clothing along with all diaper-changing essentials in your diaper bag. 
Update the diaper bag every week
Make it a weekly ritual to review your diaper and check if it needs to be decluttered or updated. You will find crumbs of snacks or maybe empty lotion bottles. So make sure to keep your diaper bag maintained beforehand. Thus, if you need to go somewhere in a hurry, you can quickly leave without worrying about packing the diaper bag. 
Don't forget!
I have witnessed parents forgetting the diaper bags at home (not judging them at all). Make sure to keep your diaper bag where you have your car keys or in the nursery so you don't forget the second most important thing in your life; the first one is of course the baby. 
That was all about organizing the baby's diaper bag. Do share your thoughts with us in the comments below.