When a new baby is welcomed home, parents face the daunting task of tackling the mess of clothing that can come with it. Babies may be tiny, but their clothes can become a source of chaos with the amount of laundry they create! Even the smallest pieces of clothing can add up and cause a huge mess. Setting up the right system for you and your infant can be a great time-saver. It can help you prioritize other important aspects, like bonding with your baby and making life simpler.
How to Organize Baby Clothes
Are you looking for advice on how to organize your baby's clothes best? We have compiled a list of the top 13 tips that are highly efficient and will save you time in the long run. With this article, you'll be able to easily and quickly organize your baby's clothes. You can store them in a closet or dresser and ensure everything is in place. And when it's time for diaper changes, you'll be able to locate the clothes without delay.
1. The sooner, the better
When it comes to organizing a baby's wardrobe, the sooner, the better. When you announce to your friends and family that you are expecting, you probably will start receiving gifts. If you plan to sort everything after the baby's birth, you will be left with a huge pile of clothing. Thus, it's better if your nursery is ready; you start by organizing everything at least 3 to 4 weeks before your due date. So that in case you deliver early, you already have everything sorted for your little one's nursery. 
2. Hang or fold
Before you start putting your baby's clothing in the wardrobe, you must decide which baby clothes to hang and which to fold. For instance, you would prefer to fold dresses, suits and sweaters. Whereas, pyjama sets, onesies and napkins etc. should be hung.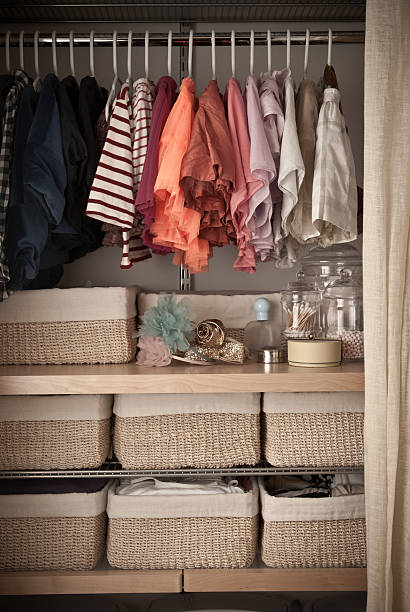 3. Organize according to the size
When you have a baby, you will notice that you will have dresses of varying sizes. So, you should sort the clothing according to size, such as 0 to 3 months, 3 to 6 months, and so on. You can also have two baskets, one designated for clothes that are too small and one for the ones that are too large for now. The small basket you can give away as a hand-me-down or donation and keep the larger basket to be used later. 
4. Use storage bins
Storage baskets are a great way to store and organize newborn clothing as the clothes are of small size, so they get easily adjusted. You can also keep diaper or nighttime essentials in these baskets, so everything comes in handy when needed. You can purchase from stores or repurpose baskets at home. 
5.

Label everything
Label everything in your baby's wardrobe, including storage baskets, drawers, or shelves. Labelling the drawers of your nursery dresser is an essential step – it's fast and efficient. It helps keep all the baby clothes organized. It also makes it easier to grab what you need when you're in a hurry – this way, everyone in the family knows exactly where each type of clothing is kept.
6. Stack away out-of-size clothing 
Babies grow really fast, so they outgrow their dresses quickly. It would be best if you planned what to do with those items. You can keep separate baskets for this purpose and label them. You can later donate them or keep them for the next baby. 
7. Sort your baby's clothes every three months
Make it your routine to purge your baby's clothing once every three months. To do this, you need to take out all clothes that your baby is currently wearing and sort the clothing into different piles, such as separating the ones that your baby still fits in with the ones that don't fit anymore. There may also be a few stained clothes, or your baby doesn't need them anymore. So, to keep the baby dresser organized and clutter-free, this purging activity is a must.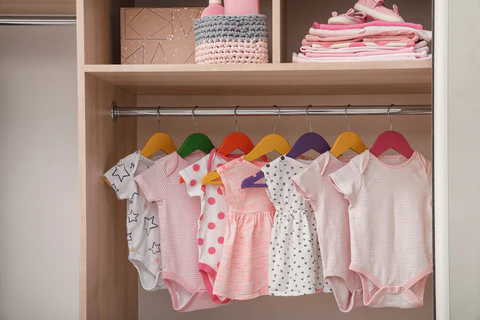 8. Donate the ones you no longer need
Suppose you have sorted out the baby's wardrobe as discussed in the section above. In that case, Donating the clothing your baby is no longer using to a local charity is better. 
9. Prioritize while organizing the baby closet
One thing you must remember while organizing your baby dresser is its functionality. Such as, you should keep the diaper essentials in the top drawer or at the most accessible area of the wardrobe. Because you will be changing tons of diapers in a day, especially during the first few months. Similarly, you can store lesser-used items in the bottom drawers.  
10. Drawer dividers
Drawer dividers are going to be your best friend when organizing your baby's closet. Using drawer dividers will make your life much easier as they help group the clothing according to their category. Thus, you will be able to find the required piece in no time.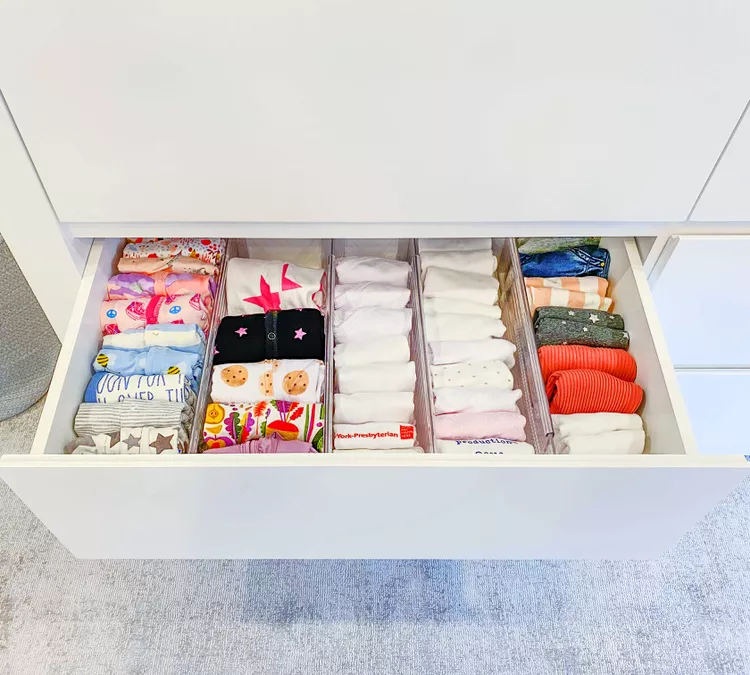 11. Maximize baby dresser space smartly
With the arrival of a baby, you will experience that the little one has literally tons of clothing, and no matter how big the wardrobe is, it will not suffice. In that case, you need to act smartly and maximize the storage space using some genius tips. For example, you can double the hanging space by installing another rail. Also, you should pay attention to the back door space, where you can get some sturdy hanging door organizers. This way, you will be able to create much space without any hassle. Moreover, if you have under crib storage, you can use that space to keep your baby essentials. Thus, the options for maximizing the storage space are limitless. 
12. Keep a laundry basket
Baby clothes organization is possible only if you think smartly. Keep a laundry basket near or inside the baby closet to avoid the mess created by dirty clothes. 
13. File folding method
Another super helpful and popular tip to keep your baby wardrobe organized is to utilize the file folding method by Marie Kondo. This way, you can keep everything nicely organized without searching through chaos and clutter. Finding each item will be easy; if necessary, you can also rearrange them quickly due to their neat organization.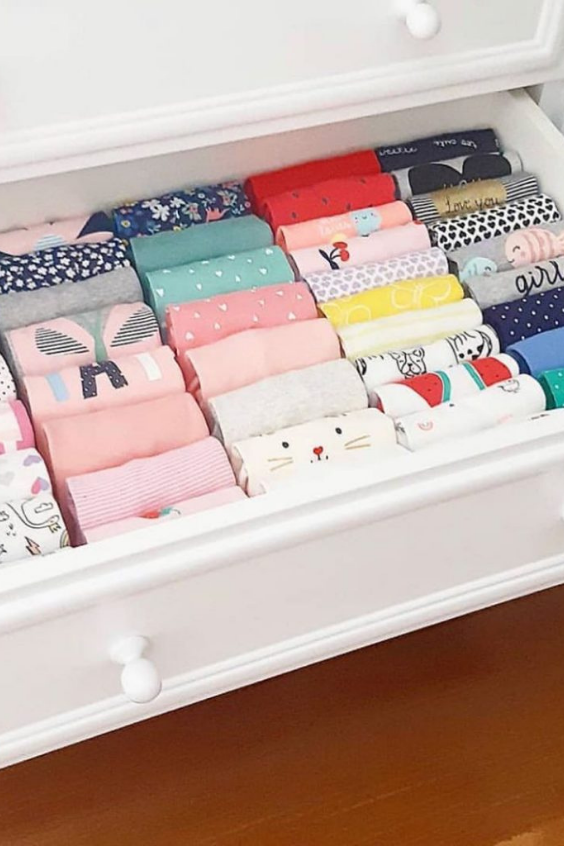 Being a parent is rarely stress-free, but organizing the nursery can help take some of the tension. You can focus on being at your best for your little one by having everything in place and ready to use. The peace of mind that comes with being prepared can also reduce potential worries as a mom or dad. Use these tips to keep your baby wardrobe well-organized, and let us know in the comments if you like the article.