How to Organize a Baby's Nursery in a Small Space
A new baby brings many changes in your life, and one of the most prominent ones is to occupy your room space. Setting up the baby's nursery before his arrival is quite stressful for a new mom-to-be. These tiny creatures require much space to accommodate their essentials related to sleeping, bathing, playing, etc.
A space-saving and functional nursery might be challenging, especially in limited space. However, with proper planning and creativity, you can organize your baby's essentials in the best possible way. 
This article is about Small Nursery Organization Ideas which you can implement to save space and organize a clutter-free nursery. 
1. Make a Plan For Baby Room Organization
Before you start preparing to set up a nursery, it's essential to sit down and make a rough plan about how you want your nursery design to look. Also, make a list of essentials you need—a tip: never blindly trust ideas available online. It would be best if you were practical while planning your little one's nursery. Keep your budget and requirements in mind before finalizing anything. 
2. Take Measurements 
When you are done with the plan, measure the space you intend to convert into the nursery. These measurement figures will help you get the right nursery furniture. Keep these numbers in mind when buying any nursery furniture so that you don't regret it later because you would not want to make the nursery look crowded. 
3. Minimalism is the key
.
Minimalism is the key, especially when you are tight on space. Try to avoid hoarding baby essentials; get the stuff you need in the next couple of months. Also, the quantity should be appropriate. These tiny human beings grow quickly, so it's better not to overspend by purchasing dozens of onesies of the same size. 
4. Prioritize the stuff that should go in the nursery 
When you have a small space for a baby's nursery, you can prioritize everything related to the baby, which properties should go in the nursery and which ones you can adjust in some other room easily. Such as a baby crib and baby monitor will go in the nursery, but you can keep the toys in the living room and the toiletries in the bathroom. 
5. Select your color scheme wisely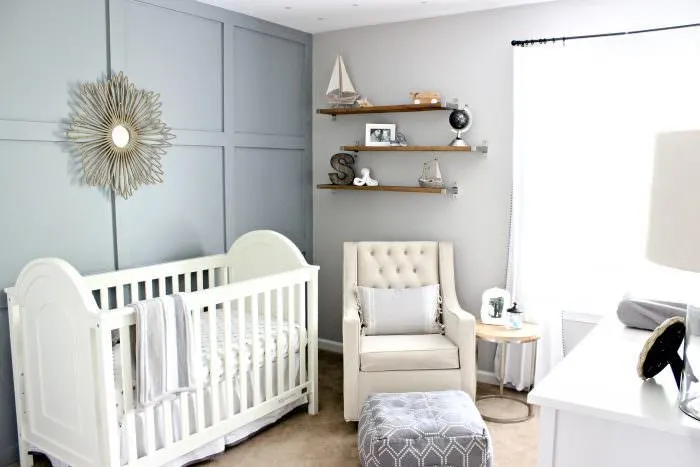 You should go for light colors of walls and ceiling if you want the nursery to look more spacious, as dark colors make the space appear more crowded. Also, instead of going for conventional pink or blue, you can use white, beige or grey tones for your baby's room. These color schemes will not only give a spacious impression but are pretty trendy these days. 
6. Declutter Regularly 
Avoid being a hoarder, no matter how much space you own. If you think you have extra stuff that you don't need anymore, give it away. Regular decluttering helps your home stay mess-free. Also, major decluttering is highly recommended before the arrival of the baby because once the baby arrives, you will need tons of essentials related to his needs. So you must create extra room for all those necessaries beforehand. Even after the birth of your little one, you still need regular decluttering because babies outgrow very quickly.
7. Make use of under the crib space
.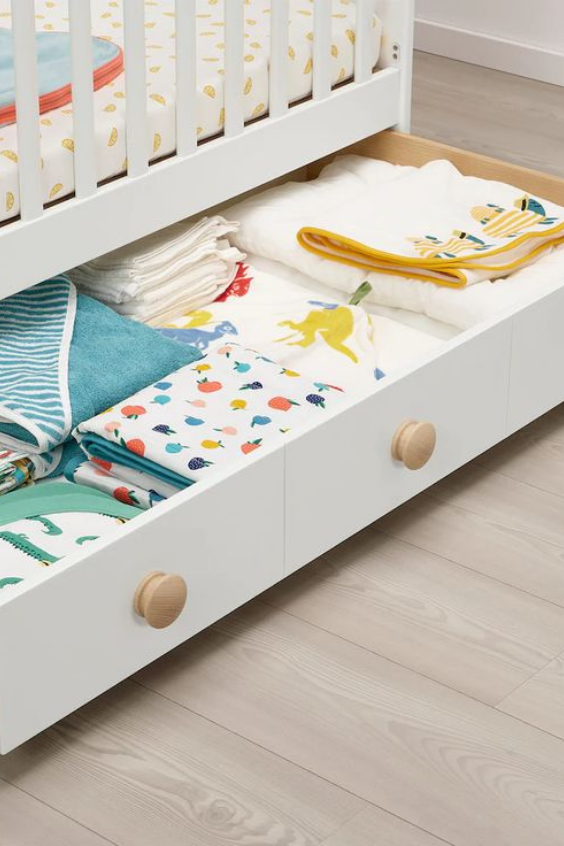 The space under the crib is often ignored by many. However, you can utilize that space purposefully to add storage to your little one's room. Examine the area you have under the crib, and then use storage baskets or tote bags to keep your baby's clothes there. You can also invest in a crib with drawers underneath to maximize the storage space. 
8. Alternate options for changing station
Instead of getting an oversized changing table, you can convert a chest of drawers or your own dresser into a changing station. This will save you budget and space both. Another option is to get a crib with a top changing desk. Thus, you can have a 2-in-1 kind of experience while staying minimalist in your space. In short, ensure it does not waste any space, whichever option you choose for your changing area. 
9. Get space-saving sleek cribs
.
Cribs take up quite a lot of space in a baby's room, but with a bit of creativity, you can play smartly. You should go for a mini-crib if you already have less space for a nursery. The mini cribs take up less space and are ideal for small nurseries. 
10. Storage baskets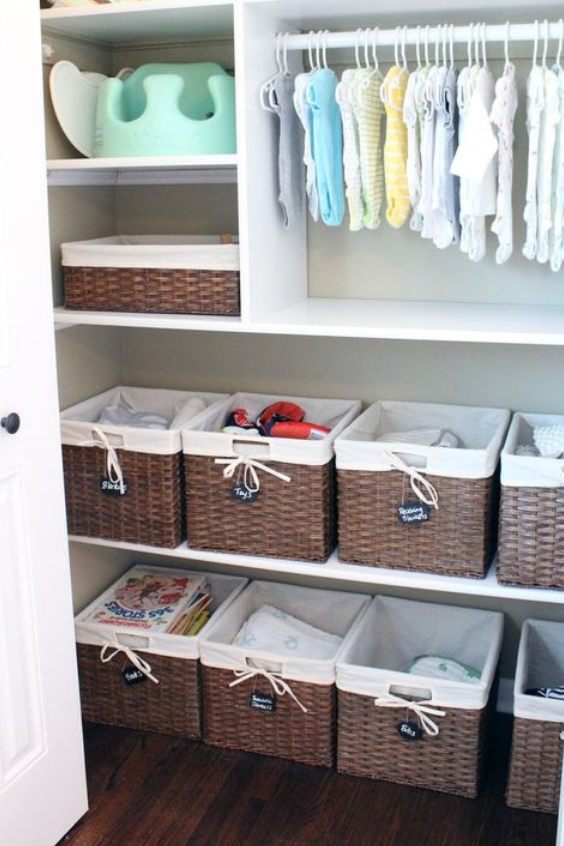 Storage baskets are a great way to store and organize a tiny space effectively. These baskets keep everything sorted and easily accessible. For example, you can keep essentials related to diapering near the changing table. Also, remember to label the baskets to avoid the hunt for essentials in the hour of need. 
11. Set up a Corner of your Room 
Suppose you have limited space in your home and need a separate area designated for the nursery. In that case, you can still have the joy of setting up your baby's nursery. All you have to do is to set up a corner of your master room. Just play around with your existing room furniture and make room for your upcoming buddy. 
12. Utilize walls to maximize space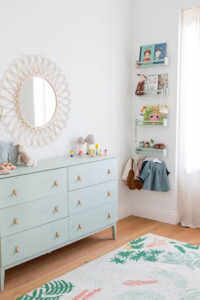 Focus on your nursery walls to increase the storage space. You can install wall rods and hang baby's clothing there. Or you can also get floating shelves to store books, toys or even toiletries. They are available in every color and size, so you can choose the ones that complement the theme of your nursery. The floating shelves not only maximize the space but also add up to the aesthetic element of the nursery. 
13. Changing table with drawers
Changing table with drawers is a must-have in a tiny nursery. The drawers will help you keep essentials like diapers, sheets, wipes and rash cream etc., handy, and you won't be running in the whole room to search for a specific item. You can also get a wall-mounted changing table to save considerable space. 
14. Drawer organizers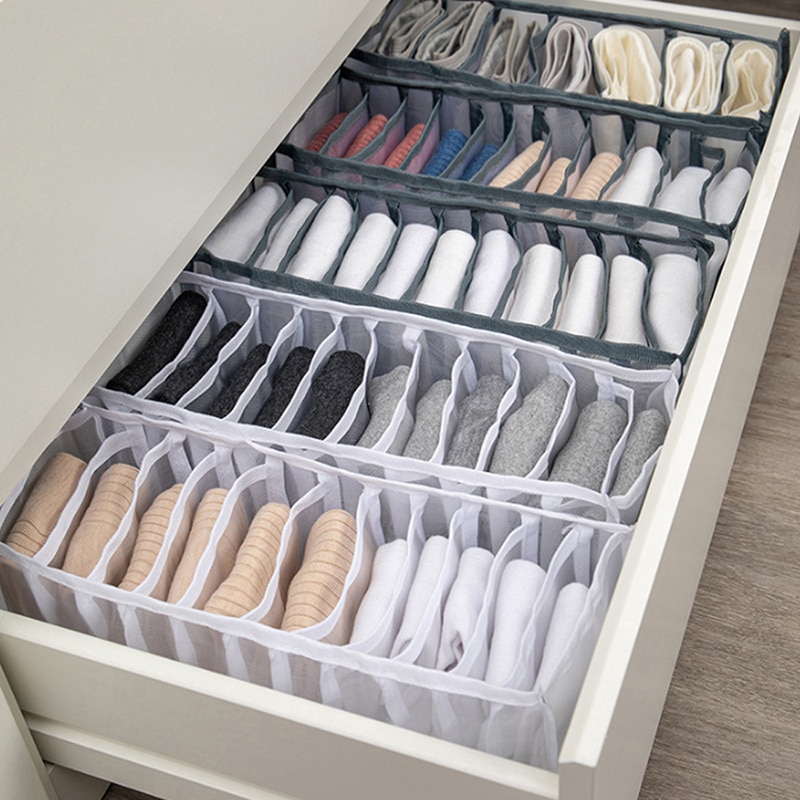 Having drawer dividers in your baby's dresser is another clever way to add extra space. The drawer organizers will also keep the drawers clutter-free while keeping everything sorted. Such storage solutions can easily organize new baby clothes, innerwear, and diapers. 
15. Maximize Door space
Door space, be it a room or cupboard, is something that most people ignore. Still, it can be utilized cleverly to store the baby's essentials. Use every door you have in the nursery to add valuable vertical space to your baby's room. Hang the organizers or install shelves on the door to keep baby stuff and accessories. 
16. Avoid visual clutter
When a baby is born, you spend most of your time in the nursery, so it is essential to keep the nursery clean for your peace of mind. Also, visual clutter gives a sense of a crowded room. The clean a nursery is, the bigger it will look. The best way to keep your nursery tidy is to keep things back in their place after every use. 
17. Dual multi-purpose furniture
For a mindful organization of a tiny baby nursery, you must choose the furniture wisely. Invest in multi-purpose space-saving furniture. Also, avoid buying massive furniture that takes up all your floor space. Every furniture piece you choose for the nursery must be functional and sleek in design. For example, you can get a crib with a changing table or a dresser with a changing table. 
18. Hooks
Hooks are another great way to add storage to your baby's room's wall space. Install hooks wherever you need to hang hangers. You can also mount hanging organizers in the hooks to store small items. 
19. Mounted lights
Adding floor lamps might not be a good idea for a small nursery, so you should use a ceiling light or a wall-mounted lamp. A small wall lamp will also be helpful when you want a dim light, like during nighttime feedings or changing sessions. 
20. Wall art
Adding a little wall art decor will level up your nursery game. You can choose abstract art, printed letters, framed pictures or anything that goes with the overall theme of your nursery. 
21. Ditch closet doors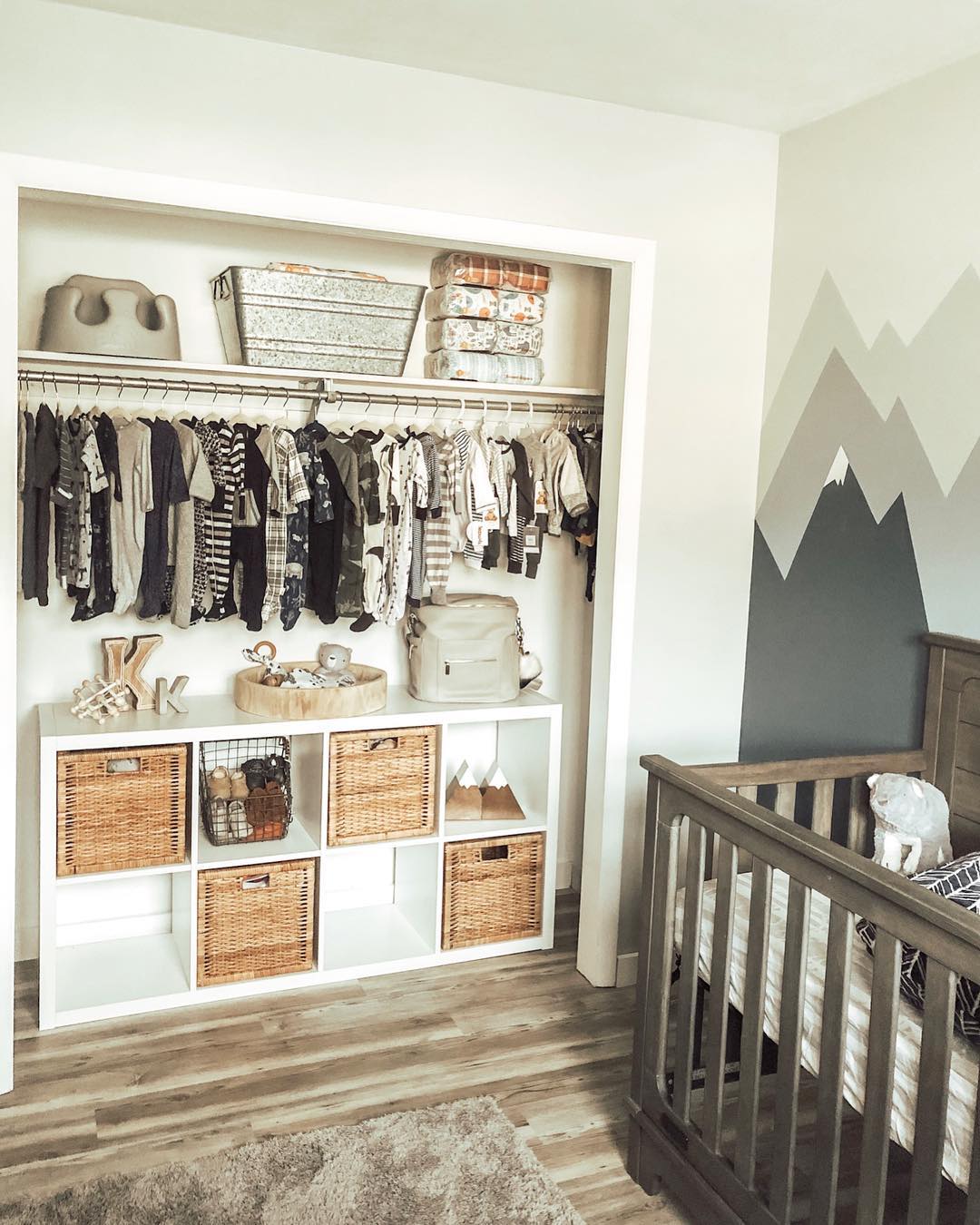 Closet doors can make furniture placement in a small room tricky. So why not remove them and either install a sliding door or leave the closet as it is? Removing the closet doors will add space to your small nursery and help make room for other necessary furniture. 
22. Armchair caddy
An armchair caddy near your nursing chair is a helpful way to keep your baby's burp clothes, pacifiers, other nursing essentials, etc. This will save space and keep your sanity intact during the non-stop crying sessions. 
23. Vacuum Bags for seasonal clothes
Soon after the baby is born, you will be surprised to realize that your baby owns such a tremendous amount of clothing. To save space, you should keep the seasonal clothes, blankets, jackets, etc., in vacuum bags to make the room more functional. 
24. Rolling cart 
If you have a small nursery space, you should look for unique storage options around your home. Rolling cart is one of those alternate storage options in which you can keep your baby's diaper essentials or toiletries. Another benefit is that you can take the cart wherever you are in the house, so you can change your baby's diaper while binge-watching your favourite show. 
25. No heavy curtains and drapery
Heavy drapery makes a room look stuffy, which you would never want for your nursery. So ditch those old-fashioned heavy curtains and go for some slim window blinds. 
26. Install mirrors
Another effortless way to make your baby's room look larger is to install mirrors. You can install different mirrors of your choice to make them aesthetically pleasing.
I hope you enjoyed reading our nursery organization tips. These nursery storage ideas will help all moms-to-be working with a small space for their baby. Utilize these small nursery ideas, and let us know in the comments if this post was helpful for you.