Kitchen is the heart of a home, it represents the overall aesthetic and vibe of your home. A clean and clutter-free kitchen makes your cooking more fun. Organizing and maintaining a kitchen is an art and it becomes more challenging if you have got a small kitchen that too without a pantry. If your kitchen doesn't have a pantry and everyday cooking becomes a messy hassle for you, then you need to organize your kitchen in a way that it offers maximum storage.
Clever No Pantry Storage Solutions for a Small Kitchen
How to organize a small kitchen without a pantry? If you are struggling to find an answer to this question, then this article is your right choice. Keep reading to get some clever storage ideas!
Having a kitchen with no pantry can be tricky but you can use some of our organizing ideas to maximize the available space and get the most out of it.
Small Kitchen Cabinet Organization
One of the most important step while organizing a kitchen without a pantry is to maximize the space inside kitchen cabinets. You will need to use smart storage organizers for this purpose so that they can contain maximum supplies in less space.
No Pantry? How To Store Food
Food storage will raise a huge a question mark if you don't own a pantry storage space in your kitchen. Instead of directly dumping your food essentials such as cereals, pasta, coffee, etc in the cupboards, you should use compact and stack-able storage bins or containers to organize your food items. Such food containers will help you in using the available space effectively.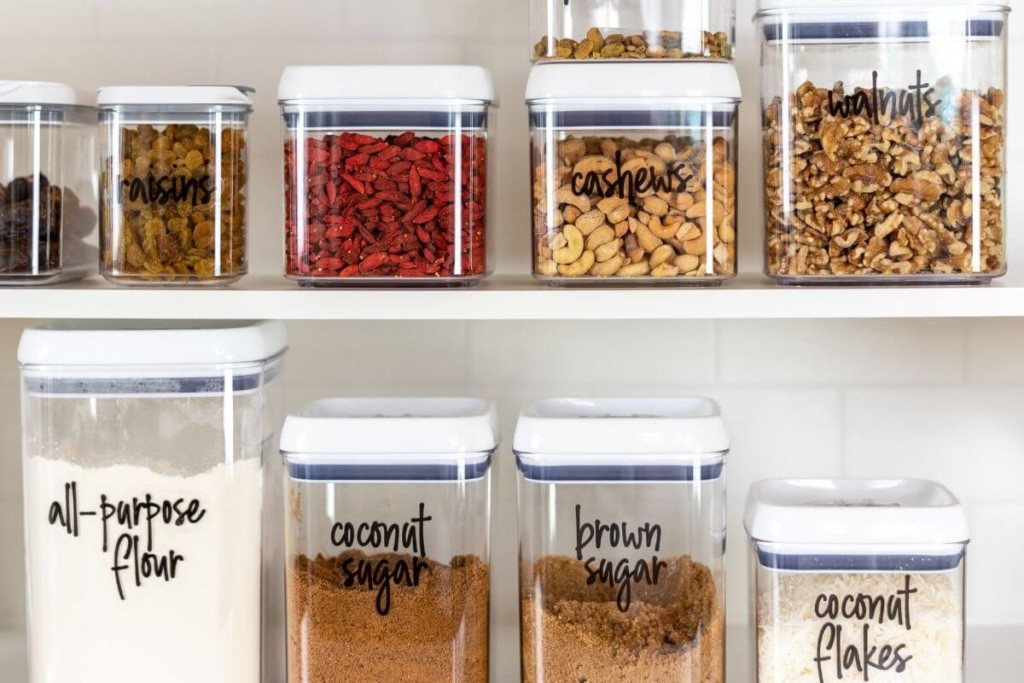 Magnetic Spice Rack
Spice racks are a useful way to store all your spices at one place. If you are running short of space, then you should opt for wall-mounted spice rack to save the space.
Lazy Susan
When it comes to organizing a large number of kitchen supplies in small space, no organizer is better than lazy susan. A lazy susan or spin board is essential whenever you plan to organize any space. It allows for easier access to products and is ideal for long jars, tall bottles, etc. Arrange the bottles so that the labels are facing outward. This way, you can see what you need without accidentally knocking over other bottles.
Keep Baskets in Kitchen Cabinets
You might think that it doesn't make a difference where and how you keep your kitchen essentials, but adding baskets just to your kitchen cabinets or shelves can help you keep groceries nicer and tidier. Baskets can also be used to store kitchen tools or sort ingredients such as baking supplies in one basket, and dry food items in an other. Moreover, small loose items like snack bags can easily be stuffed inside baskets to avoid visual clutter.
Utilize all Available wall space of kitchen
If you have already utilize all available cabinets and drawers of your kitchen and still running short of space then get creative and utilize kitchen walls. There are a number of ways to make use of kitchen walls such as you can hang a spice rack, hooks or a railing to hang pots etc. You can also mount a multi-purpose floating shelves on the wall and use it to store glasses or coffee mugs.
Kitchen Counter Organization
Clear countertop always give a tidy impression, although you can add few cool items to enhance the aesthetics but please remember that minimalism is the key for small kitchens. A good rule of thumb is to keep the appliances on countertop which you use daily such as coffee maker or toaster and keep the rest away. You can also keep your daily food essentials in pretty containers to add an oomph to your counter space.
Drawers Organization and ways to improve drawer space
For a better functioning kitchen, drawers are very important as they provide more storage space in your kitchen as compared to cabinets. You can use the drawers space to store pots, pans, dinnerware, table linens and what not. You can customize them according to your requirements. Also, in order to enhance the storage space of drawers and have a tidier look, you should get some drawer dividers. Drawer dividers keep everything at easy access thus you won't be spending hours in finding your favorite spatula right before cooking. Getting drawer inserts is another cool way to keep your drawers mess-free.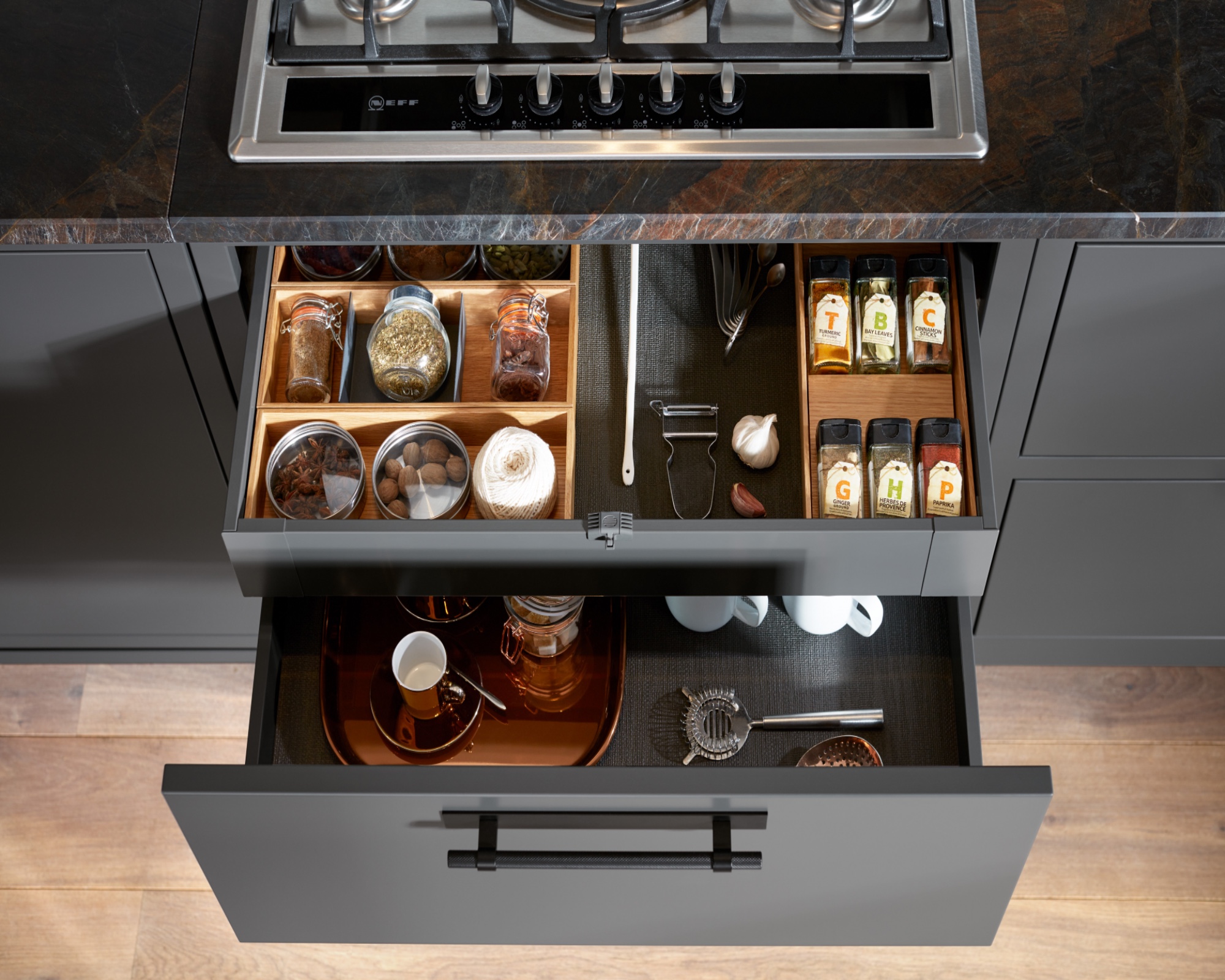 Get a Pegboard now for Kitchen Tools!
Another way to organize a small kitchen is to get a pegboard. Pegboard adds versatility and functionality to your tiny kitchen. You can install wall-mounted shelves on it and hooks to hang pots and pans, etc. Being on kitchen wall, everything you store on a pegboard will be on your easy access.
Make Use of Under the Sink Area
If you don't have a pantry in your kitchen, you need to use every inch of it and what's better than utilizing under the sink space. We have a detailed article on under the sink organizer ideas on our blog that will guide you to have an insight how you can purposefully use that area.
Kitchen Organizers that add storage to your cabinet space
Thinking about organization and ignoring the importance of organizers? You are doing it wrong! To maximize the available space, you must invest in good kitchen organizers. Stackable organizers are good option for tins and beverages, etc. You can even make organizers at home too, like utilize spare shoe boxes as storage baskets, etc.
Repurpose spaces from other parts of your home
You can have a number of pantry ideas for small spaces if you look around your kitchen. Have a detailed tour of your home and create a pantry alternative wherever you want. May be try using the spare bookshelf lying in your lounge and use it as your kitchen pantry. You can use storage baskets and containers in this newly created pantry storage. Store and organize the items that are not frequently used in that shelf.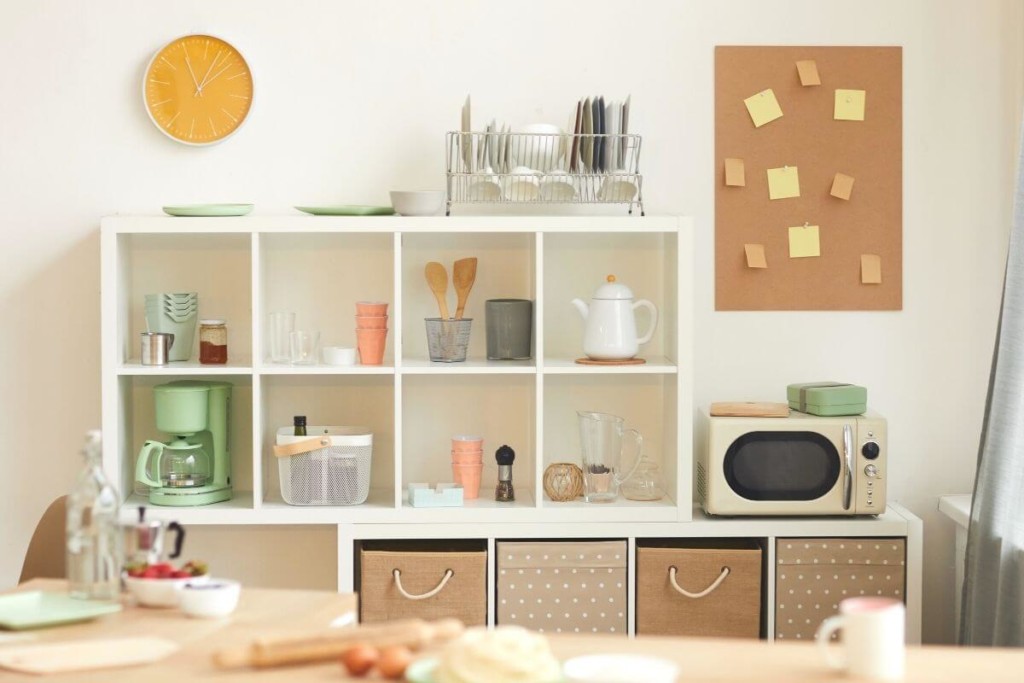 Utilize Hutch as Pantry in your kitchen
You are wondering how to organize your small kitchen without a pantry? No worries, your china hutch is there to help you in this. Repurpose the hutch and turn it into a pantry storage. You can also have it customized as a tea or coffee station. So let's just be creative and play around with it.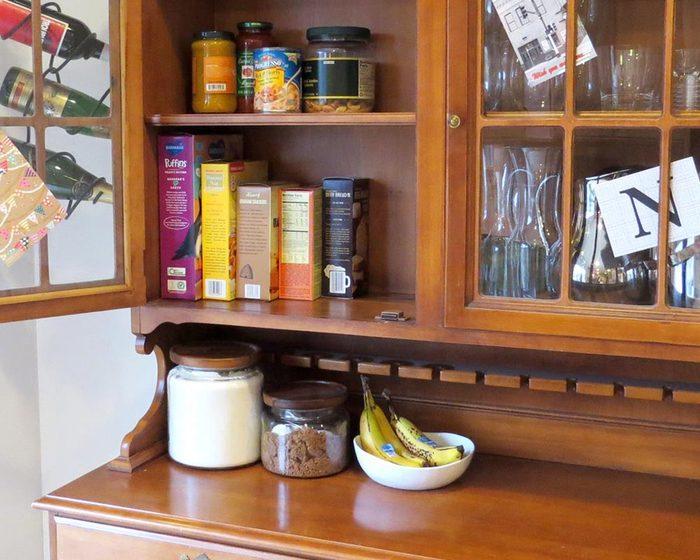 Kitchen Carts
Kitchen carts act as an excellent portable kitchen shelves. You can store frequently used spices in kitchen cart and take it with you while cooking. After the cooking is done, you can keep it against any wall in the kitchen or near it.
Get Creative with Corner Cabinet
Every kitchen has a corner cabinet which if not utilized smartly might become a headache for you. This is the least accessible part of your kitchen but still has plenty of storage space. Invest in some good rotating or pull out organizer so that anything you store there remains approachable to you. You can also keep the items you don't use every day in the corner cabinet.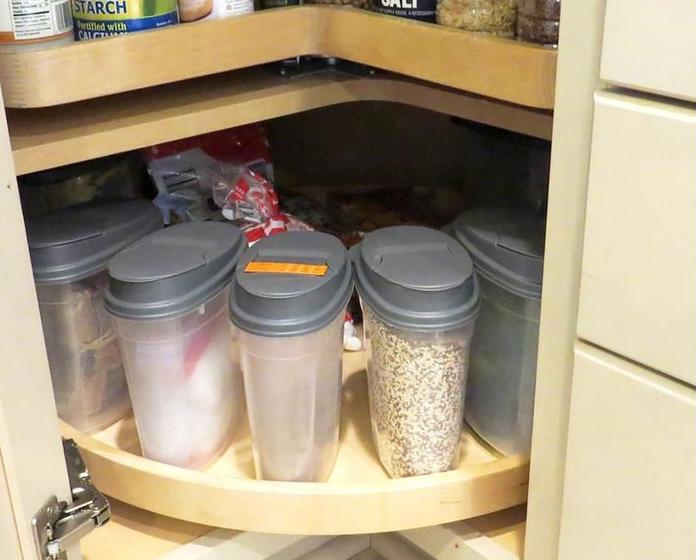 Organize vertically
You can organize even the smallest of kitchen very well if you utilize vertical space smartly. For this purpose, you can either install multiple shelving or use kitchen shelf organizers for some stylish storage solutions.

So, this was all about organizing small kitchen even if you don't own a pantry. Implement these ideas today and let us know your feedback. Also, you may check out our blog and find more storage and organization tips that will make your life easy.