The kitchen and bathroom under sink is full of clutter: soap, sponges, toilet brushes, and, oh, yeah, multiple hairbrushes. Not to mention soap pumps that stick, sponges that harbor germs, and toilet brushes that tend to dry out. It's a total sink of shame. Not taking your clutter seriously means that you miss opportunities to create space. Not organizing your clutter means that you end up going in circles trying to solve the same problems over and over again. What you need is a cleverly designed storage solution for your under the sink that maximizes cabinet space while keeping everything easily accessible. Here are 14 genius under the sink organizer ideas.
Get creative with your organizing skills using these tidy tips, so there is no more fear of an under-sink zone.
Top under the sink storage ideas

They say an organized life is a happy life. Under the sink storage is often overlooked in the home, but it can be used for much more than just a place to store your cleaning supplies. However, organizing it can become a nightmare if this space is already full of clutter. Thus, you must be mindful while keeping your essentials  in this area. There are all sorts of creative ways to use that space to store everything, from pots and pans to toiletries and towels. Under the sink, space can be utilized for the stuff you don't need daily. Keep frequently used items above the sink for which you need extra effort.
In this article, you will learn about some fantastic hacks to give your under sink storage the much needed glow up.
1. Empty the under sink area
This is the first and most crucial step in organizing the storage space of your under sink area.
Take out everything you currently keep under your kitchen or bathroom sink and sort them out. This will give you a clear idea about what supplies you have and also help you declutter the unnecessary or expired stuff. During the sorting, you may find duplicate or damaged products or something with a missing lid. Get rid of any such thing by throwing away or donating it to someone else.
After removing all the supplies, deep clean the under sink storage, including all the nooks and crannies.
You can use shelf liners to cover the area as they are easy to clean and help protect the cabinet from any damage.
2. Measure the space
The pipe under the sink and the absence of shelves make it a tricky space to organize. Thus, before investing in under sink organizers, measure the available space.
After measuring the area, have a look at the dimensions of the stuff you want to keep in there.
For instance, consider whether the items are small, big, too wide or too thin, etc., or there are boxes, jars or bottles. Only then will you be able to maximize the storage space and get the right organizers.
3. Select your organizing products wisely.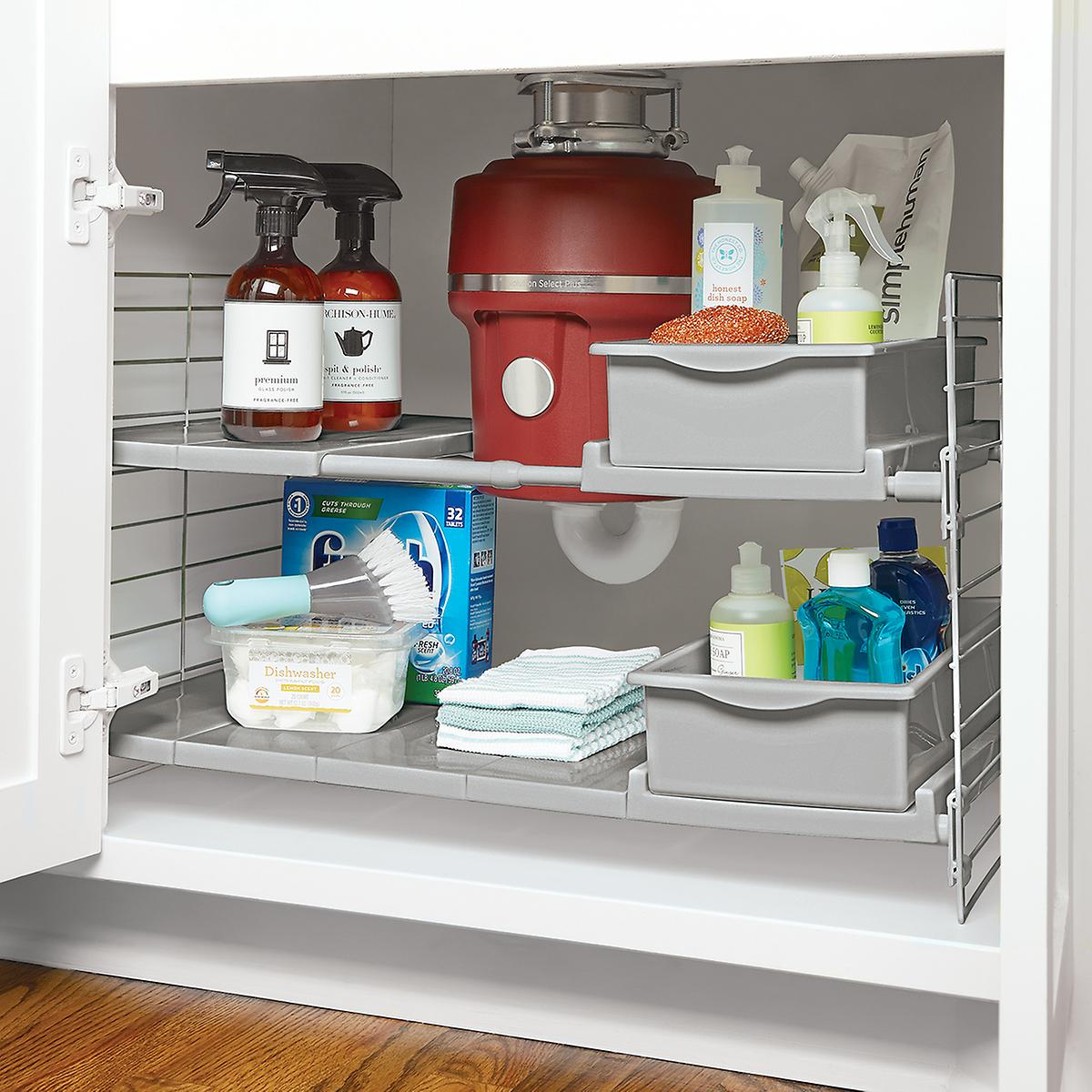 How do you know which organizer is best for your under sink space? You can only utilize the under sink cabinet to its fullest if you select your organizers thoughtfully.
There are many options available to organize your space; choose organizers that work for you. You may like to use one big organizer or multiple small jars or containers.
Whatever storage system you plan to implement, make sure it is inexpensive and user friendly. Try to use smart containers that help to maximize the space instead of further cluttering it.
4. Label everything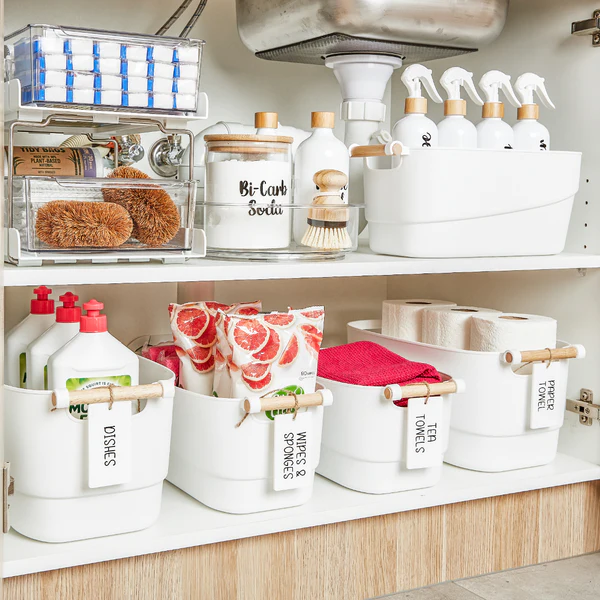 I can not stress enough how vital labelling is for an ideal organizing solution. If you have a label maker, go ahead. If you don't, create your own labels using a paper cutter and pen. You can label individual supplies or the baskets/containers you are keeping them in. It depends on how you want to organize yours under the sink cabinet.
Labelled items look tidy, are easy to find and thus saves time. Labelling the storage baskets will also allow other family members to know where exactly a particular product belongs.
5. Lazy Susan or Spin Board is going to be your best friend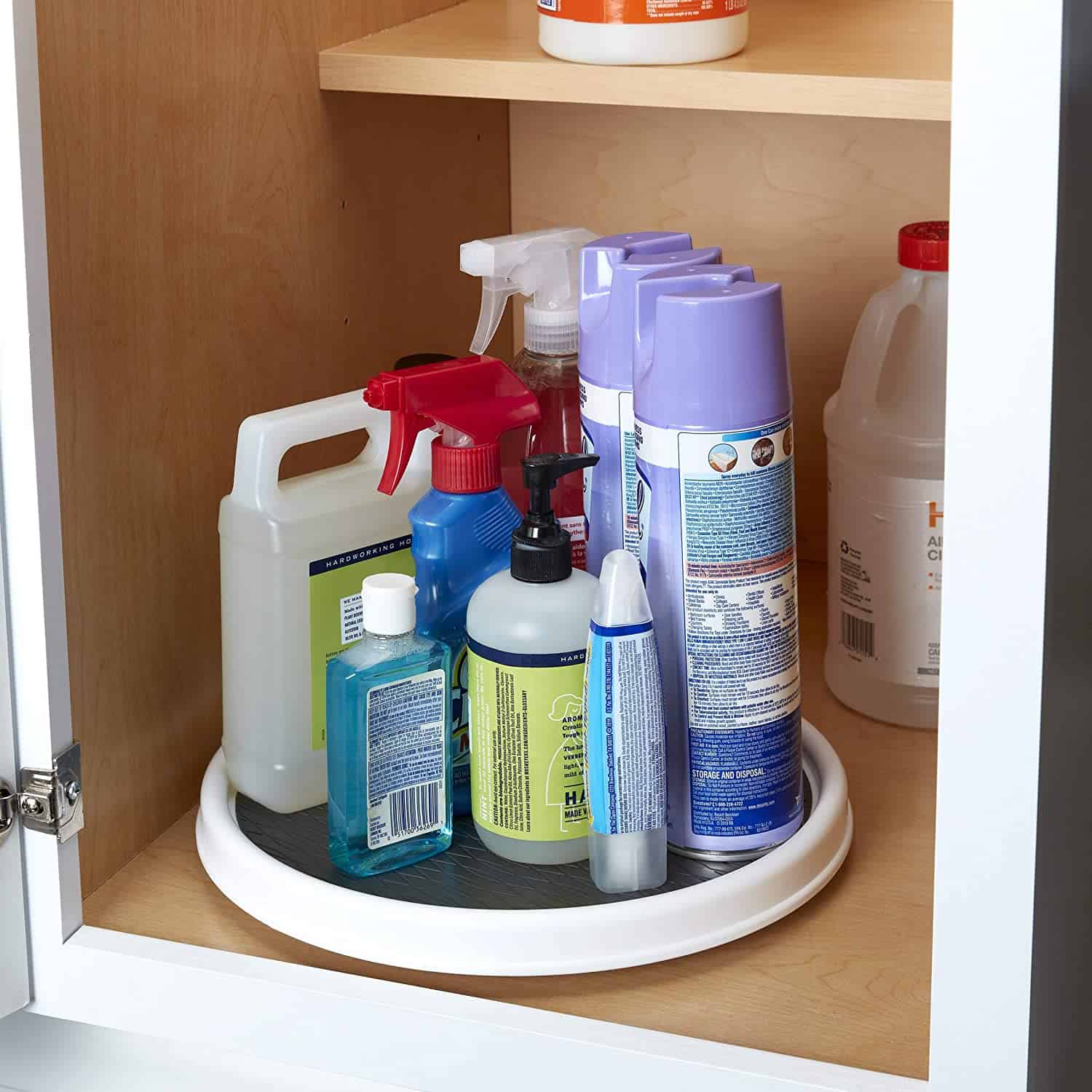 Lazy susan or spin board is a must-have whenever you plan to organize any space. It ensures easier access to products and is ideal for long jars, tall bottles, etc. Remember, if you can not see the products, you may never grab to use them.
Thus, keeping a lazy susan will help you maximize your under sink storage and increase the utility of the items you plan to store.
6. Make use of pull-out shelves and drawers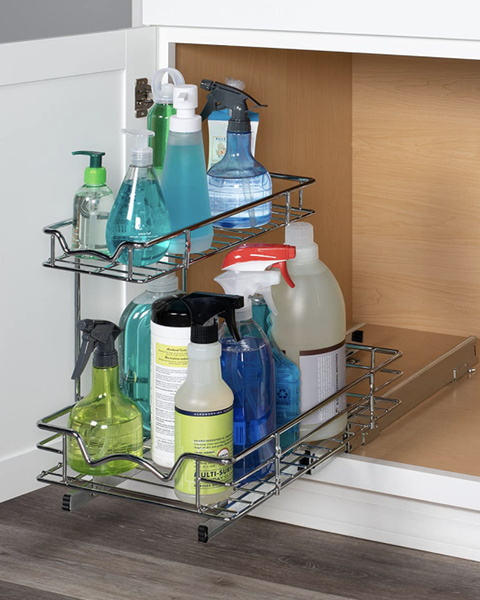 Usually under sink cabinet does not have built-in shelves but don't worry; you can still utilize this space effectively. You can install pull-out drawers or shelves for this purpose. Try to keep the products you frequently use at the front, so taking them out does not become a daily hassle for you.
7. Utilize the under sink cabinet door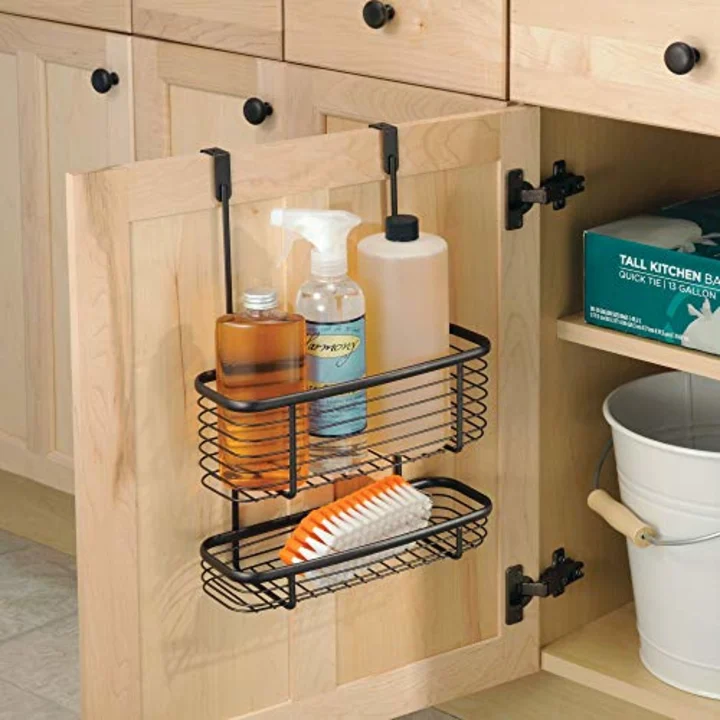 Utilizing under sink cabinet doors will maximize its vertical space and provide extra room for items of multiple sizes. There are several ways to make the most of a cabinet door. Such as, you can use hooks to hang spray bottles, dish rags, bottle scrubbers, etc.
It is better to use adhesive hooks so that the cabinet door does not get damaged. Such hooks are readily available at any home improvement store or even at a dollar store. Likewise, a floating cabinet door shelf is another amazing hack for the effective storage and organization of the said area.
8. Tension rod to hang spray bottles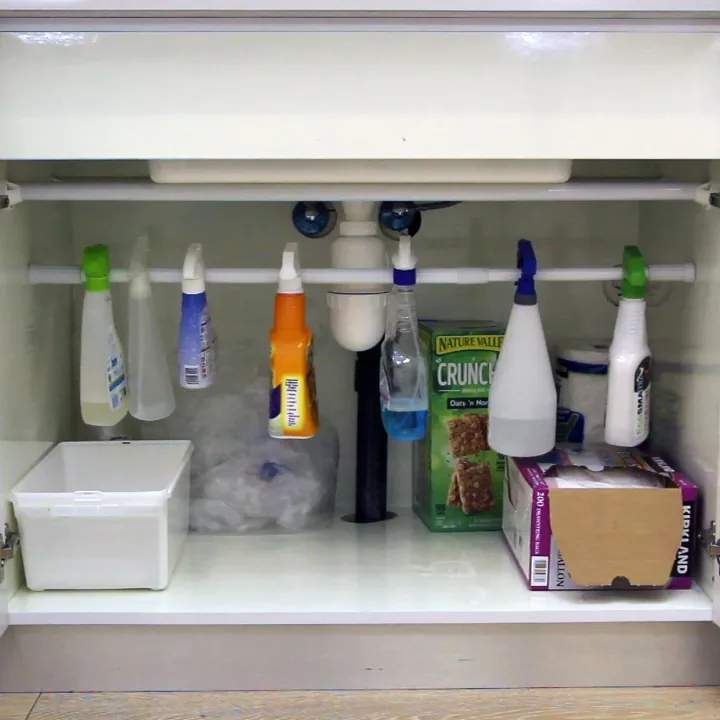 Simply install a tension or clamp rod across the under sink storage and forget about the mess spray bottles create there. Hang these bottles on the rod; thus, the space underneath can be utilized for keeping other essentials. You can also use a clamp rod for awkward areas that drain pipes create under the sink.
9. Storage baskets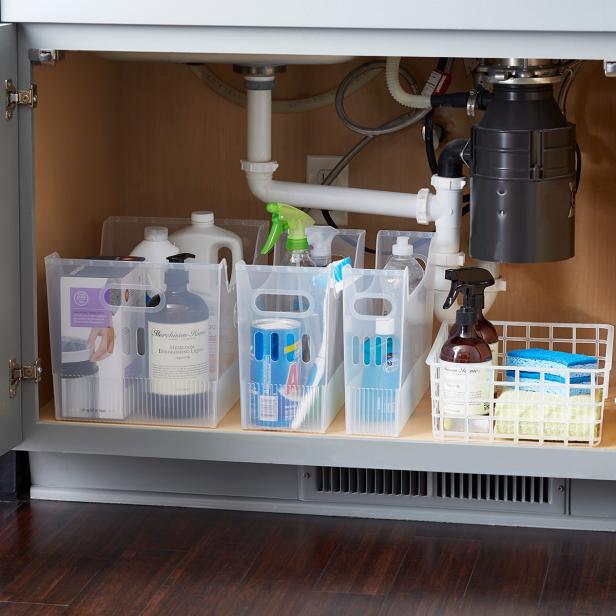 Always make sure that everything you use has a designed place for it, and you need to put it right back to keep the space organized. Speaking of which, storage baskets and containers are an excellent way of organizing items due to the fact that they can easily accommodate supplies of various sizes. Moreover, they are also easy to pull out and keep everything upright. Sort and organize the items category-wise and group similar items together.
Like you can store dishwasher tablets, rinse aid and salt in one basket and dishwashing tools in another.
You can also store trash bags in one of the baskets instead of just dumping them down there. Later on, you can label the baskets to allow easy access.
10. DIY baskets and organizers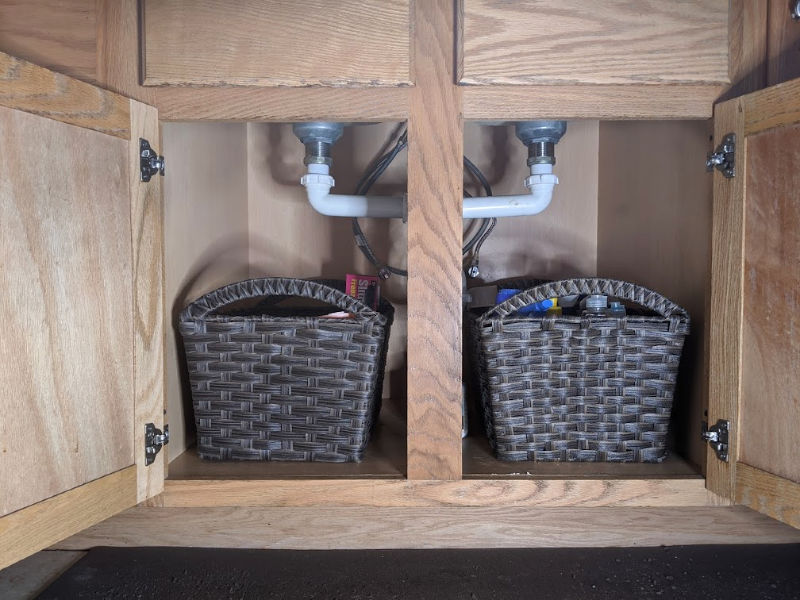 Be creative and use your brain to make your own DIY storage baskets and organizers. Transparent plastic containers or shoe boxes can be repurposed to provide excellent storage solutions.
Even you can ideally use the organizers designed for other parts of your home in the under sink site. For instance, utilize this kitchen basket for your area under the bathroom sink to keep cleaning supplies or toiletries.
You can even make use of the shower caddy as an under sink organizer.
11. Pull out Trash can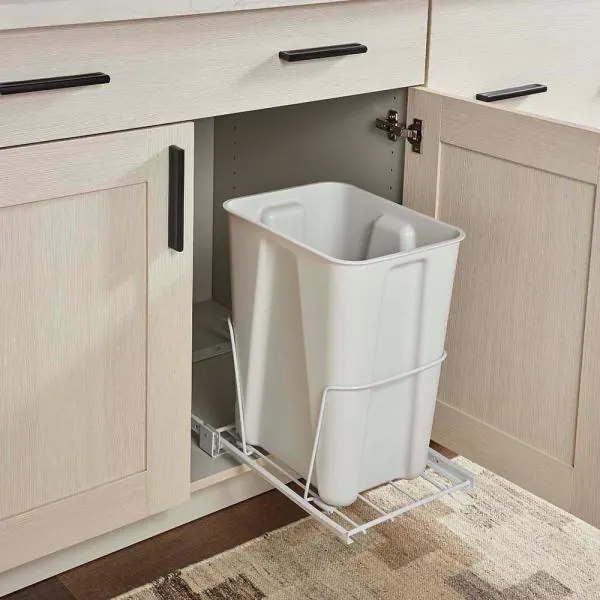 A pull-out trash can is practically something that everyone should have in their kitchens. You can install this can in your under sink area so it will be away from your sight, keeping all the clutter hidden. Also, the glider helps the bin to come out whenever needed. Thus, when you need to throw something sticky, it won't create a mess underneath but will directly fall on the kitchen floor, which you can easily wipe away.
12. Make shelves or use organizers for this purpose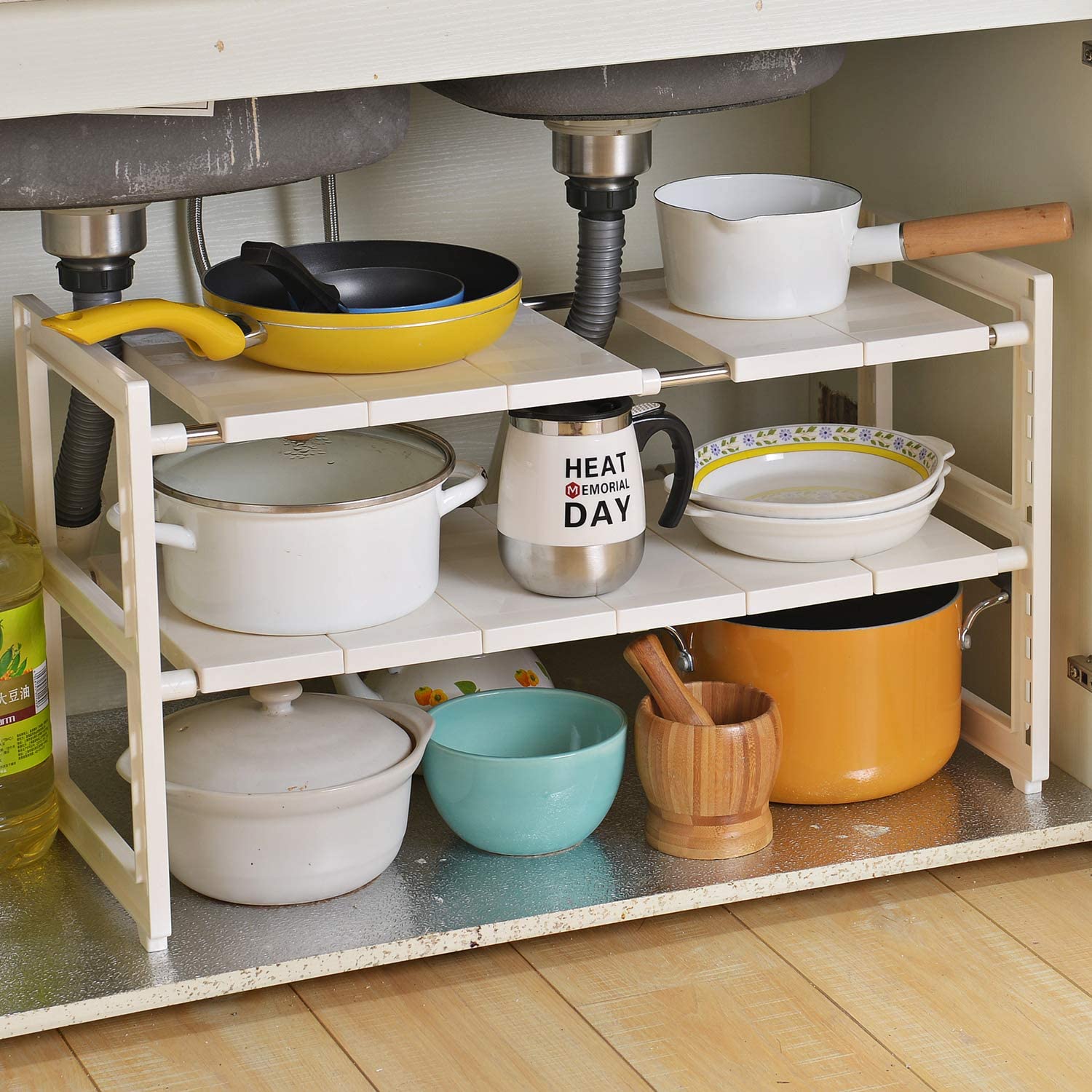 Building shelves is another smart and practical way of adding function to your home's under sink area, making enough room for smaller items. Shelves help in maximizing the vertical space of the under the sink storage. You can also use store-brought organizers or adjustable shelving for this purpose.
13. Remove extra packaging
Usually, a product's packaging takes more space than the product itself. So, we recommend you remove the packaging to save space. You can then keep the products such as sponges, dishwasher pods and detergents in smaller containers.
Also, a few packaging like small cartons etc., can be up-cycled to use as DIY storage baskets and organizers.
14. Keep toxic supplies away from the reach of children and pet
Most kitchen and bathroom cleaning products are chemicals that may have hazardous results if ingested. While organizing your under sink space, make sure to keep detergents, bleach, drain cleaners and other toxic essentials like these towards the back. So, they are away from the reach of children or pets in order to avoid accidents.
Make your kitchen organization a fun-filled home improvement weekend project using these under the sink storage ideas.
Under the sink storage ideas like mentioned above are practically doable and cost-friendly. Once you are done with your under sink organization, all you have to do is to maintain it, which is not impossible if you keep things right in their place after using them. We hope this article helped you get some insight into how you can transform a dumping ground into well-organized convenient storage.
Also, feel free to check our Kitchen Organization Tips to keep your organization game up.
Did you find our under the sink storage ideas helpful? Let us know about your feedback in the comments section below.